August 1, 2018 @ 6:43 AM
RI Echo Newspaper Article published August 2018
Red Hot Striper Fishing at Block island
Summer is in full swing and the timing for Trophy Striped Bass exists especially at Block Island. While the overall season has been somewhat sporadic for Striped Bass, August has shown some real improvement, especially for Stripers in the 35 lb – 50 lb class.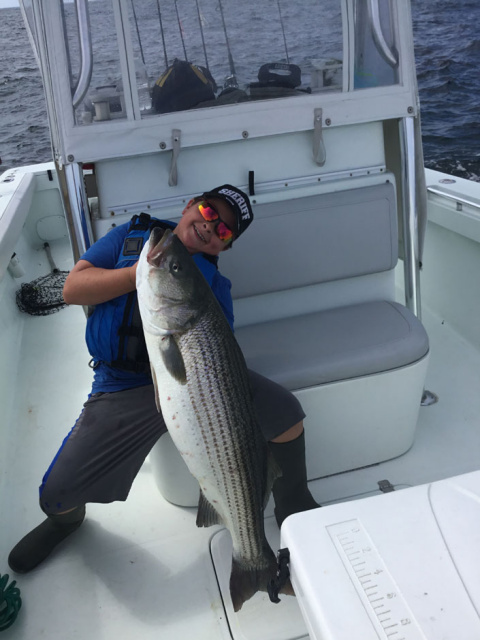 The challenge for anglers is knowing when and where the Striper bite is going to turn on.
There has been an early morning and late afternoon bite when tide conditions are favorable for the Bite to turn on!
The bite or pattern as of recently is usually a quick or short-lived event and anglers must be ready to effectively catch them in the short time frame while the Bass are actively feeding
Earlier in August there were huge amounts of sand eels available and there was a surface bite for several days. Just follow the gannets and seagulls and you found Bass. Vertical jigging and casting plugs or plastics was very effective at that time
The technique or strategy we utilize on FISH ON Charters for Striped Bass at Block Island is to fast troll initially with parachute jigs until we mark fish on the graph and or if we see any surface activity. This technique allows us to cover a lot of area quickly while looking for active fish. Once we mark fish we have clients focus their efforts and jig for the Bass or Blues marked on the graph. We have been fortunate to catch many Bass frequently in the first few minutes of trolling. Once we hook up with a Bass or Blue, we immediately switch over to light tackle utilizing live eels and or vertical jigs which is the technique and tackle most clients typically prefer.
We always have 8 to 10 rods rigged ready to go with vertical jigs and or live eel rigs when fishing Block Island even if we initially start off by trolling. We also have several level wind rigs set up for SeaBass and Fluke to be utilized when the Striper bite is over. Usually a quick ride over to the Windmill Farm area to target these species.
As I mentioned previously, the bite may be very short lived and tackle preparation is the key to getting a limit of Bass on board.
On a recent trip, we had four Bass hooked at the same time. Two fish were being brought in from the trolled lines while other anglers began casting or vertical jigging the Bass below the boat. This is fast and furious but the chances are extremely high for landing a limit of Bass quickly.
On this day, our five charter clients landed a 60, 50 and 43 lb bass, with a couple in the 30 lb class as well. This all took place within 45 minutes.
season has started very strong this season with anglers catching Striped Bass on the schools of Pogies in Narragansett Bay. This is the style of early Striper season pattern where Bass are following bait and not holding too much to underwater structure at least in the Narragansett Bay area where Bass have been caught up in the Providence River. Find the bait and you have a good chance of finding the Bass and Blues.
Productive anglers are searching for school of Pogies/ Bunker near the surface and then snagging them with weighted treble hooks. The Pogies are then rigged as live bait and cast back into or close to the school of Pogies where opportunistic hungry Bass will ambush them. Bluefish have moved in the Bay and they are being caught in the mix as well. While there are other techniques and artificial lures that work, this is the most common technique and productive when the Pogies are present and available.
Striped Bass are currently being caught throughout Narragansett Bay right now but they will be on their way out of the Bay to deeper water as soon as water temperature increases.
The timing, water temperature and bait has generated some productive Striped Bass fishing along the reefs and rocky points of the R.I. south shore especially at night and early morning.
Many anglers are also turning their attention to Block Island for productive Striped Bass Fishing at this time. While there is concern that the Striped Bass the fishery is not what is used to be a few years ago, Striped Bass are still being caught consistently by anglers that are savvy in their approach with the ability to locate productive waters and fishing patterns. One such area is Block Island, a world class fishery for Striped Bass. Block Island is approximately 7 miles from Point Judith, RI on the islands north side. The North Rip can be a premier fishing area certain times of the year.

This area provides natural habitat for bass due to the strong tidal flow and rip that forms across the Sandy Point that protrudes out about 1.6 miles from the Island before sharply dropping off to deep water. This area attracts bait such as squid, sand eels, silversides and bunker. Bass ambush bait in this rip especially on an outgoing or Ebb tide which runs in a SW to NE direction due to the tidal flow having to deflect around the island. There are some other humps in this area as well that hold Bass. This area does not typically produce trophy size bass but it can be productive.
Striped Bass are starting to show up around the Southwest side of Block Island where anglers focus on fishing the underwater structure and tidal rips in this area outside the EEZ boundary. The SW portion of Block Island is approximately 13- 15 miles from Point Judith RI.
If you are not familiar with the fisheries regulations within the EEZ, a brush up on basic navigation chart and piloting skills is highly recommended to prevent the USCG or DEM having to make you aware with a financial reminder if any Striped Bass are on board!
There are numerous key fishing areas with strong tidal rips and underwater structure on the SW side of Block Island. Keep in mind that following the contour lines on the navigation charts around the perimeter of Block Island is productive as well.
When fishing with live eels, cast the live eel ahead of the boat utilizing little or no weight to make the presentation as natural as possible depending on the current even though the tendency is to drag it behind the boat on a drift.
Striped Bass Tackle

The prevalent bait in our area right now is sand eels, squid, silversides, bay anchovies and pogies.

Since it is important to match your artificial tackle offerings to the prevalent bait,
Parachute jigs, umbrella rigs with sand eel imitations, baitfish imitations and tube and worm can work well for the anglers trolling for Bass. Lead and wire line are tackle options to get the bait down in the strike zone.

For the sporting or light tackle angler, Deadly Dicks, (yes, you read that correctly) diamond jigs, plastics lure imitations such as Sluggos, Ron Z, Storm Shad and others.
There are numerous crank baits such as Rapala's , Diawa SP Minnow, Bombers, and similar lures in this category that can be effective as well
Topwater lures are must have lure on board tied on and ready to be casted.
Effective live bait includes live eels, pogies, chunks of bunker or squid for the dead /cut bait round out the captains A list for offerings!
Until Next time, Tight Lines,
Captain Sheriff